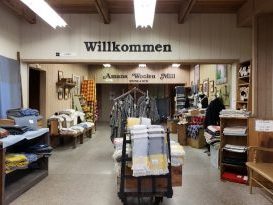 Take a Closer Look at the Amana Colonies
In my last post I asked if you had ever noticed that the village of Homestead is the only village in the 7 colonies that does not have the name of Amana in the village name?  The reason for that is because the village of Homestead was already established before the Amana people came to the area.  According to history I have read, it originally was at the west end of the current east-west street in Homestead.  The Amana people wanted to purchase the village of Homestead because the train line ran through the village, and it was needed to bring in goods and ship out product made or grown in the colonies.  So, after the purchase of Homestead, many of the buildings were drug down the street to be closer to the location of the train stop (which is slightly further east than where Zuber's Homestead Hotel currently sits).  Our hotel was soon built to help accommodate the increased number of people traveling on the trains.
As part of our event – Take A Closer Look at the Amana Colonies, there will be opportunity to visit some local businesses and local artists/craftsmen.  When you call to book your room we'll also ask you to make some choices on which tours you'd like to take.  Below are some pictures from two businesses that have been a part of the Amana Colonies for many years.  If you choose to go to these two places on a tour, you will get to have "a closer look" at the business guided by an employee.