On July 14 and 15, the Colonies are hosting Bike and Hike Weekend.  You can bring your bike or choose to 'hike' to enjoy the sites and sounds around the Amana Colonies.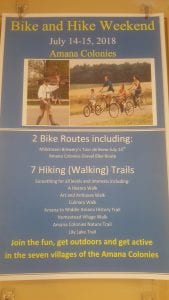 On Saturday you can register to be a part of Millstream Brewery's Tour de Brew.  This is a 38 mile bike ride.  "The event is a poker run with stops to pick up your poker cards.  Of course, there is a great micro brewed beer waiting for you at each stop.  Root Beer too. At the end of the ride the best poker hands will receive door prizes".  After this event there is live music at Millstream and they will be grilling brats. Registration is between 9:30 a.m. and 10:30 a.m. with a cost of $27.00.
There is also a Gravel Bike Route that you can take on your own. The Middle Amana to High Amana Loop is about 7 miles round trip.  The High Amana to West Amana Look is about 17 miles round trip.  The Visitor Center has maps for these routes.
There are several walking trails –
The History Trail is 1.5 miles.  This trail features historic sites and businesses in the village of Amana.
Arts and Crafts  walk is about .5 miles.  "Art found in the Amana Colonies are pieces that are uniquely made, truly one of a kind."
Culinary Trail is 1 mile.  On this trail you will sample your way across the village of Amana.  Enjoy cheeses, wines, coffees, sausage or beef jerky, and beer to name just a few items!
Antique Walk is 1 mile.  This of course will take you around to visit the many antique dealers in Amana.
The Village of Homestead has a trail which is 1 mile long as you walk from one end of the village to the other.  Several points of interest from history along with current businesses are along this trail.
The Amana Museum to Middle Communal Kitchen walk is 4.5 miles long.  You begin in Amana at the Heritage Museum.  You start by watching a very interesting video on the history of Amana, then you can tour the grounds.  After this you walk to Middle Amana where you can see the Communal Kitchen and Cooper Shop museum. There is a cost of $7.00 per person for admission to the museums.
There are 2 nature trails – one is located near Homestead  – it is called the Amana Colonies Nature Trail.  This trail has the option to walk from 1 to 3.2 miles depending on the route you choose.
The other nature trail to walk is around the Lily Lake in Middle Amana. This is a 2.5 mile walk.
Stop by the Amana Visitor Center to get the maps and additional information.
Whichever trail you choose to take you'll see the beauty of the Amana Colonies and hopefully come to appreciate the heritage which is the foundation of these 7 villages.