This will be the second year for Girls Get Away Weekend in the Amana Colonies.
Set aside the weekend of November 4 – 6th to come to the Amanas and pamper yourself!  This is a weekend full of things to do!  Weekend long activities include discount cards at Yana's Boutique and Clothes Encounter, Apple Sauce ornaments to the first 100 shoppers at A Neu Dawn, sample Pumpkin Pie Sangria at Ackerman's Winery, sample Ginger Peach Sangria, wine brownies, and a dip of the day at Heritage Haus.  There will be live theatre all weekend.  The Old Creamery Theatre will be sharing "Nana's Naughty Knicker" and the Iowa Theatre Artists Company will be sharing "Chore Boots".  Both are fun filled stories!  On Friday night you can enjoy Paint and a Pint for $35.00.  Saturday is full of choices! You'll find special things to eat, drink or shop for at the Amana Woolen Mill, The Amana Arts Guild, Ackerman Winery, and Fern Hill to name a few.  There will be food, wine, and beer pairing in the afternoon at White Cross Cellars and The Millstream Brau Haus.  As always, there are many wonderful places to shop throughout the villages of the Amana Colonies!
Special Saturday Dining Events include:
Tea and Tales at Zuber's.  Enjoy a 3 course afternoon tea while learning some tea etiquette and listening to a local storyteller shares stories of what life was like for women in early Amana.  This event costs $18.00 plus tax per person.  A limit of 20 people.  Tables are set for 4.  Seating begins at 12:40, the tea begins at 1:00 and will be over by 2:30.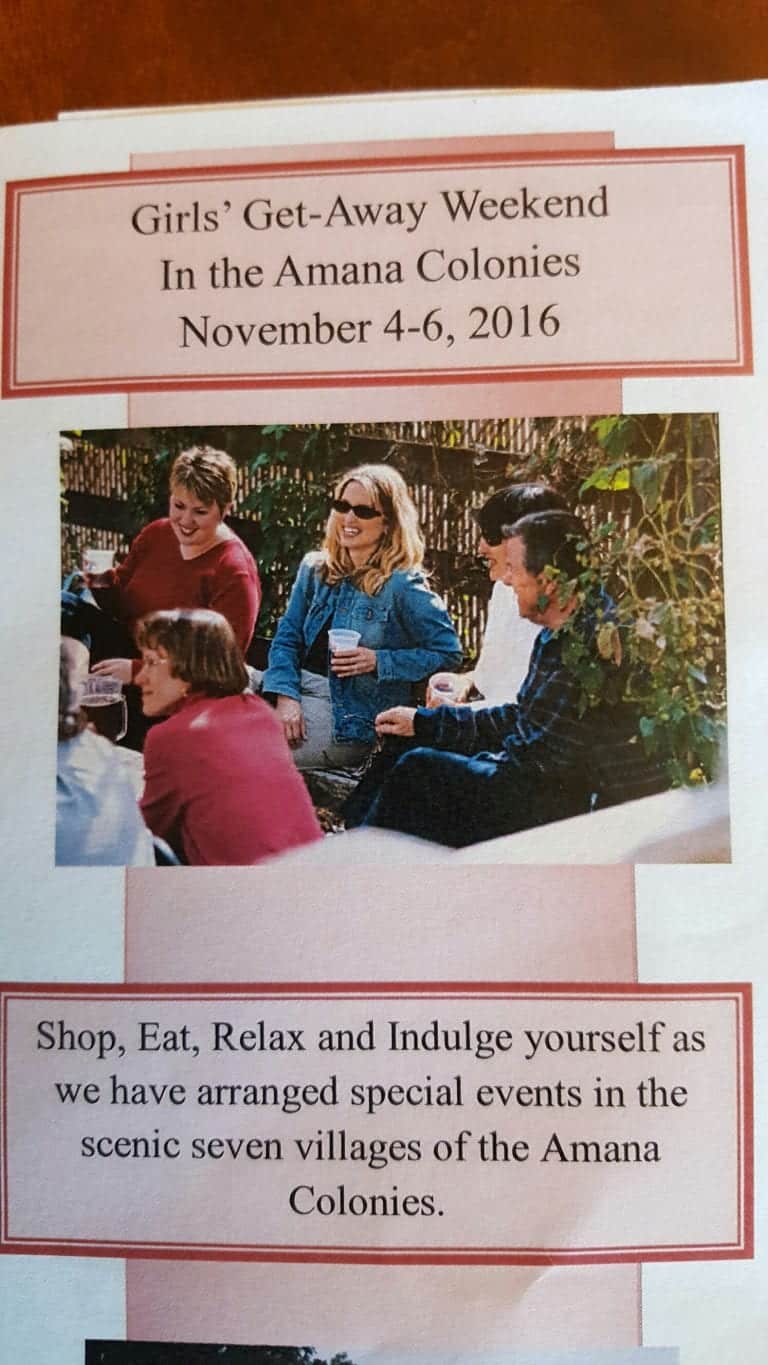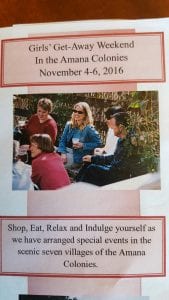 Ox Yoke's Lunch and Learn with White Cross Cellars.  A 3 course lunch with wine pairing from a Certified Specialist of Wine.  $19.95 plus tax and gratuity.
The Millstream Brau Haus, PHAT Daddy's and Ronneburg will all have specials during the weekend.
Enjoy a Vendor Fair at "Next Door" in Homestead!  From 10:00 – 3:00 on Saturday take your time to visit the many vendors set up with goodies for your shopping pleasure. IF you get worn out – you can get a chair massage to help you relax and be ready to go for "round 2" of activities!
Fern Hill in South Amana will be offering special demonstrations throughout
the day on Saturday along with wonderful shopping!
So as you can see…..there are choices galore of things to see, do, and taste while in the Colonies.  If you need more specific information, give us a call or stop by to pick up a brochure.
As always, we'd love to have you stay with us at Zuber's Homestead Hotel, a hotel like no other!