W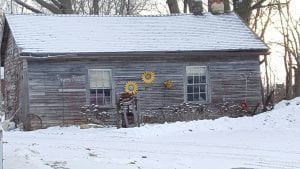 inter has officially arrived and things are slowing down.
There is still shopping to be done, the stores in the Amana villages are open.  There are still visitors to the colonies – though not as many. Everyone is more relaxed and can enjoy the slower pace and quieter days.  While Christmas is but a few days away, the urgency to prepare for it has decreased.  Visitors to the area seem to be relaxing and strolling between the stores as they shop.
The recent snowfall has blanketed the area in white and we have to close the shade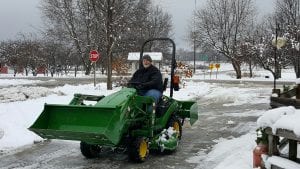 s in the Wagon Wheel room due to the sunny reflection off of the snow!  It is beautiful to look out the window and see everything covered in white.  The freezing cold days are not as fun, but the view is memorable.  Brian has enjoyed using his new "toy" to clear away the snow. 🙂
My favorite holiday movie is "White Christmas".  As a tradition since my childhood, we watch that movie either when it is on TV or using a DVD.  This is also the time of year we look back with reflection over the past year and look forward with anticipation to the new year.  In our family, the year has been filled with each member of our family getting used to new jobs and life changes.  We have already had a wonderful "Christmas".  Our first grand baby was born on December 10th to our son and his wife, and Ada is Christmas joy! Just one week later, our daughter graduated f
rom UNI with her Master's degree in Speech Language Pathology.  We are very excited for and proud of (all)our kids!
So as this year winds down and we look to the new year, we hope that your family has a joyous holiday and can relax and enjoy the season.  When you are ready to travel and are looking for a place to go – we would love to have you come and stay with us at Zuber's as you enjoy the 7 villages of the Amana Colonies.
Merry Christmas and Happy New Year !
from Bonnie and Brian