Do you know what "Schnitzelbank" is?  For one thing, it is the theme for this year's Oktoberfest parade: "A Tribute to Schnitzelbank".  Still no clue? Come to see the parade to enjoy the fun!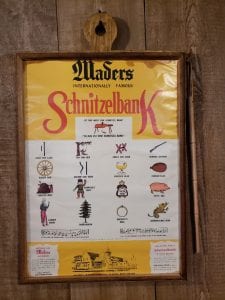 Schnitzelbank is a singing game.  There is a poster and a pointer to be used by the person directing the game.   It is a song that builds one verse upon another.
The poster to the right hangs in our Wagon Wheel Room.  A guest made this game board for us by putting the poster on a board and including a pointer that hangs on the side.  I have yet to see any guests sing the song….but maybe this weekend!!
The parade is always fun, but this year watch for the entries that go with a verse in this song!  There are postcards and even some t-shirts with this song on it.
Come and enjoy Oktoberfest, this Friday through Sunday!