I am excited to share about a new event we're having at Zuber's!  As we are in the midst of a week of WINTER weather – in a few weeks hopefully you'll be looking for something to go do to "get away from it all".  We have just the thing to do for a weekend!  Have you ever looked at something but later realized you didn't really 'see' what you were looking at??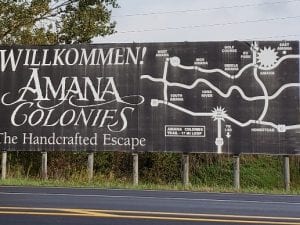 "Take A Closer Look at the Amana Colonies" is an opportunity to "see" different parts of the Amana Colonies and hopefully to realize how unique each place is.  This billboard is located at the intersection of Hwy. 6 and 151 – have you ever noticed it?  By Spring there will be a new billboard in this spot – hopefully still showing the map.  It reminds people that the Amana Colonies are just that – several villages build approximately 'an hour and a half ox cart ride apart' – as the historical stories go.  While each village has a unique story to tell, they also had the same foundational businesses in the pre 1932 years.
With our first "Take A Closer Look at the Amana Colonies" we are going to look more closely at both 'larger' businesses and some of our local craftsmen/artists.  On Friday night, you'll can begin your weekend by relaxing in your room at Zuber's after you check in.  We'll provide a light supper and then we'll have a wine tasting shared by folks from Fireside Winery.  This winery is in the country near Marengo, however they also have 2 stores in the village of Amana – Fireside in the Village and Ackerman's Winery. After we've enjoyed the wine tasting, we'll have a guest speaker who has been born and raised in the Amana Colonies.  Emilie Hoppe also publishes the local tourist newspaper which is found in every room at Zuber's.  Emilie will share stories and some history about the colonies.  Then to top off the evening, we'll have a warm dessert for you to enjoy before heading off to your room for the night.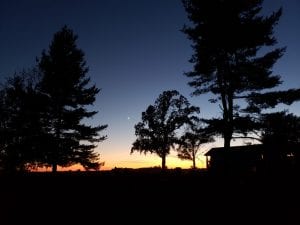 I love going out to our backyard at sunset – every night is a different beautiful sight to see.
Next week I'll show pictures of some of the businesses and/or craftsmen you can see on this weekend.  Meanwhile, you can go to our main website for details about this weekend and to find out how to reserve your spot.
Have you ever noticed that 6 of the 7 villages have the word Amana in their name, but not Homestead?  Do you know why? 🙂  I'll tell you next week.