As we move into the Winter season, things are slowing down in the hotel, so we are again going to serve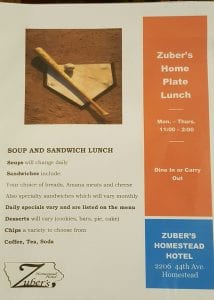 a light "plate" lunch four days a week.  Monday through Thursday we will be offering two types of soup and a variety of sandwiches from 11:00 – 2:00.  We have a "build your own" sandwich where you can choose your own bread, meat, and cheese, we will offer "special" sandwiches which will vary from month to month.  New this year we have a "Zuber's Stack Sandwich" – very similar to a "Dagwood" sandwich.  It is about 3 inches tall, including 3 slices of bread,  4 kinds of meat, 2 types of cheese, lots of veggies, and a spicy mustard sauce!  In addition we will have a daily special which will vary monthly. This month we have the following specials planned: Monday – Meatloaf with vegetable, roll and a side of fruit.  Tuesday is Cashew Chicken over rice with a side of fruit.  Wednesday is an open faced roast beef with mashed potatoes and gravy with a side of fruit, and Thursday is Beef and Noodles.  Also every Thursday we will have homemade cinnamon rolls.
Our menu also has three types of salads: Chef, Grilled Chicken and Taco, a choice between a bowl or cup of soup, we offer a different homemade dessert daily (cookies, bars, cake, pie, our choice!) and there is coffee, tea, soda, and water to drink.
We serve lunch in our Wagon Wheel room where guests enjoy visiting around the tables, we also offer a Take Out option for those who might not have as much time to sit and enjoy.
We will NOT be serving lunches the week between Christmas and New Years, otherwise we should be open Mondays – Thursdays 11:00 – 2:00 with comfort food and great conversation to be enjoyed by all!