Where does the time go?  It is hard to believe that December is over and January is nearly over, this cold winter has really been moving along!  In December the Tannenbaum Forest is a wonderful place to visit. 
This year we decorated two trees, one to represent Zuber's Homestead Hotel in about the 1860s and the other to represent Lace Lodging (our other business) - all done in lace.  The quilt under our Zuber's tree was hand made by one of Brian's Great Aunts. Then the snow came and the bitter cold weather!  Everyone tried to stay inside and warm!  Brian "got" to spend time outside moving snow so everyone could come and go as needed.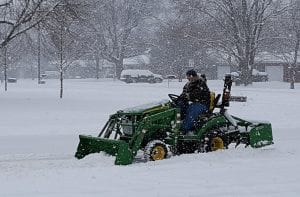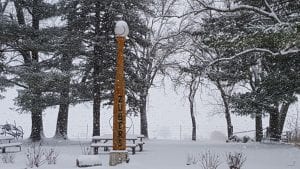 But the snow was beautiful as it coated the ground and trees, even adding a "top hat" to the baseball! The snow and Christmas lights sure made our Wash Shed behind Zuber's look lovely at night!